This is where we converge and meet every Friday nite. Well known among residents in Shah Alam for their good "Nasi Lemak Panas". Open 7 days a week. This is where we would meet up and hang out with others.
Each Friday nite we would meet and exchange ideas about bikes, activities and rides. Here is where we would plan any upcoming rides or events.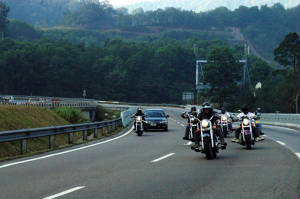 Next after every body has arrived, we would go to 'PEDRO' to enjoy to live band, shoots some pools, and have few drinks. This is where the fun really begins... So if any of choppers out there who would like to join us, you are welcome.